Amazon Stealth eBook by Aspkin
Friday, July 2nd, 2021 at 5:06 pm
Amazon Ghost (Amazon Stealth eBook) is the ultimate guide to getting back on Amazon after an account suspension. The Amazon stealth (Amazon Ghost) eBook guarantees safe and secure methods to create new Amazon seller accounts safely and without being linked to any other account. All techniques incorporated have been heavily researched and tested. If you have been blocked by Amazon and you want to know the secrets to creating a new seller account and continue selling then you need Amazon Ghost (Amazon Stealth eBook).
Amazon Ghost includes everything you need to know to get back on Amazon and stay on after being blocked and suspended. Some features of Amazon Ghost include:
Automatic Updates – When a new version of Amazon Ghost is released you will get any updates free and instantly! Amazon Ghost (stealth eBook) is updated often so you're always one step ahead.
Remain Anonymous – Learn how to remain anonymous and how to protect your accounts from linking. Amazon is no slouch, their tracking is second to none. Learn everything you need to know to safely create a new account while staying anonymous. This works for other websites as well!
Creating Multiple Accounts – Learn how and why you need to run with multiple accounts. Amazon Ghost will show you step-by-step how to create multiple accounts to sell more! The more accounts you have the more you can sell.
And much more!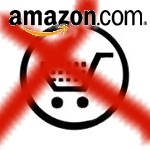 Amazon Ghost (Amazon Stealth eBook) was designed to get you back on Amazon after an account suspension. If after being blocked by Amazon you try and create a new account, you will surly be linked and shut down in no time. Amazon tracks your IP Address, browser cookies, flash objects and more to link your accounts and shut you down. Most people are unaware of this and will unsuccessfully try to create new account after new account. It just doesn't work without the right information.
Some of the reasons Amazon may ban an account includes:
If your feedback score is not satisfactory
If your shipment rate is poor
If you do not ship your items
etc.
Mistakes happen and that's why Amazon Ghost is here. Learn how to get your Amazon business back and continue selling for years to come!
Good luck!
Originally posted 2011-01-31 16:12:30.